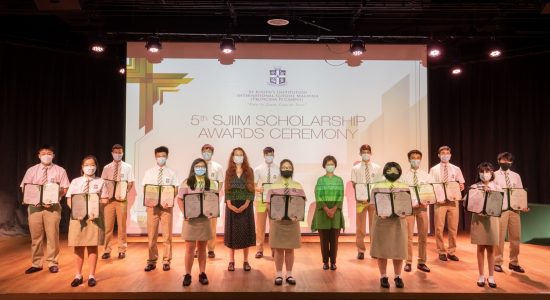 St. Joseph's Institution International School Malaysia (SJIIM) recently celebrated its fifth batch of International Baccalaureate Diploma Programme (IBDP) scholars through a Scholarship Awards Ceremony on 8 October 2020. The event was organized in 'new normal' fashion with notable virtual guests such as SJIIM's Board of Governors, Ms Yap Su-Yin, CEO of the Tan Chin Tuan Foundation and the proud parents of the scholars attending the event via Facebook Live for the very first time in the school's history.
A proud Lasallian tradition, the IBDP Scholarship Programme is a cornerstone feature of St. Joseph's Institution International Schools in Singapore and Malaysia. The scholarship programme is now in its fifth cycle and has been supported by many organizations and well-wishers since its inception in 2016 and in particular, the Tan Chin Tuan Foundation who have been significant benefactors of the initiative.
Mdm Mak Lai Ying Frances delivering her speech
SJIIM's Head of School, Mdm Mak Lai Ying Frances congratulated the scholars in her speech and presented the certificates personally to them as they were called on stage to receive their Scholarship Award Certificates. It was certainly a surreal ceremonial experience for the scholars as they stood proud on stage while being cheered on physically and virtually by SJIIM's Board of Governors, Head of School, guests, teachers, parents and students.
A surprise 'a acapella' performance from Maddy Williams
One of the scholars, Tan Shao Qin, whose older brother was also one SJIIM's founding IBDP scholars, was ecstatic with the scholarship he received and his experience so far in the programme, "As a government school student for 11 years, the scholarship has been an eye-opening opportunity for me to experience a vastly different international school environment that has helped me develop my approach to my academics. Living in a new state and place has also helped shaped me to become a more independent and disciplined person. Therefore, receiving this award made me feel blessed to be here in SJIIM."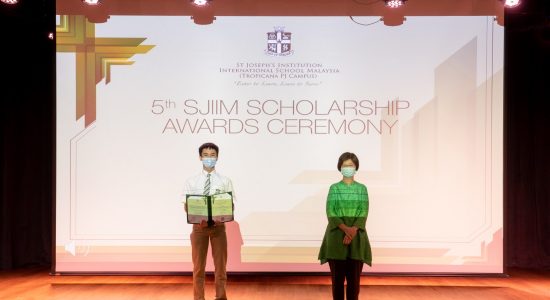 Tan Shao Qin with his award
Another of SJIIM's founding students in 2016, Aadar Shrestha was equally complimentary of the IB Diploma Programme and expressed his thanks for being awarded the sought after scholarship, "I am immensely grateful to SJIIM for believing in me and granting me this scholarship. I have been given the opportunity to partake in the IB program at SJIIM, which will greatly help bolster my skills set for my further education. During the scholarship awards ceremony, I only hope that I was able to inspire my juniors to give their best and also pursue their next two years at SJIIM."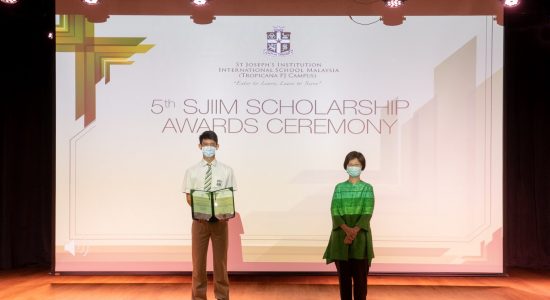 Aadar Shrestha with his award
For Choi Taewon, it was a case of double the joy as he was one of only 3 recipients to be awarded the special Tan Sri (Dr) Tan Chin Tuan – SJI International Malaysia Scholarship Award. "As a founding student of SJIIM, I have always wanted to follow my senior's footsteps in receiving the scholarship award. Fast forward to today, I have lived up to my dream and I am extremely grateful to be able to continue my education at SJIIM where I not only have the opportunity to study the vigorous IBDP programme but also follow the Lasallian vision at the same time."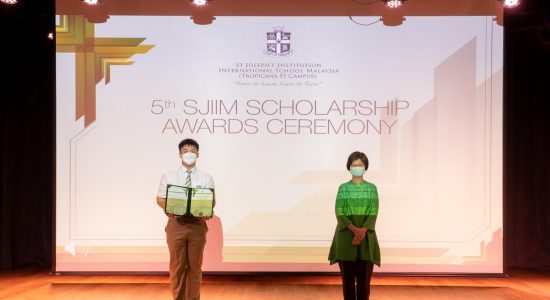 Choi Taewon with his award
An all-round enriching scholarship experience, the IBDP Scholars of this programme also had an extra special induction experience this time around compared to their predecessors, as they participated in an internal Lasallian Leadership Training Camp in school this year as opposed to the Philippines. Despite the camp being staged far from its usual training grounds, it nonetheless managed to fulfil its objectives which focused on Lasallian Formation, Leadership Training and Service Work. This helped to prepare the school's scholars as Senior Lasallian Student Leaders to serve the school's community and the needy upon their graduation from the camp which is especially relevant during these difficult times caused by the pandemic.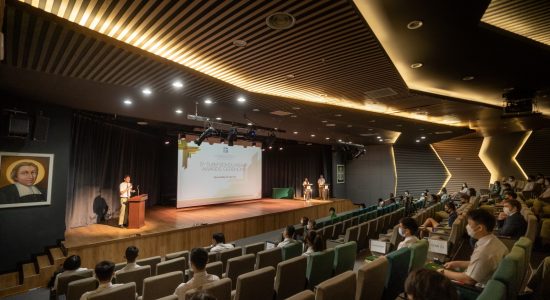 SRC President Bryan Tan delivering the 2019 Scholars' Representative Speech
Mrs Maureen Fitzgerald who is the High School Assistant Principal of SJIIM for Curriculum and Assessment and IBDP Coordinator of the school was beaming with pride at the school's latest scholarship awardees. She said, "It has been such a pleasure to see the impact of the IB Diploma Programme on these scholars already after just six weeks of this academic year.  The awards ceremony is an opportunity to highlight these students as role models to all of the students in the high school. The conduct of our new scholars in the ceremony and the speeches by our Head of School and by our Year 13 student, who is the President of our Student Representative Council were inspiring for all who attended."
Mrs Maureen Fitzgerald looking pleased with the chosen scholars for this year
The SJIIM IBDP Scholarship Programme is a unique outreach initiative of St. Joseph's Institution International School Malaysia. It offers a 2-year scholarship to pursue the International Baccalaureate Diploma Programme in SJIIM. Applications are evaluated based on merit and means and all applicants are expected to be able to provide evidence of good academic performance and demonstrate active participation and leadership in service & co-curricular activities.
Applications will open again in December 2020 for SJIIM's 2021/22 IBDP intake in August 2021. Interested applicants are encouraged to learn more about the programme by contacting the Scholarship Coordinator at scholarships@sji-international.edu.my