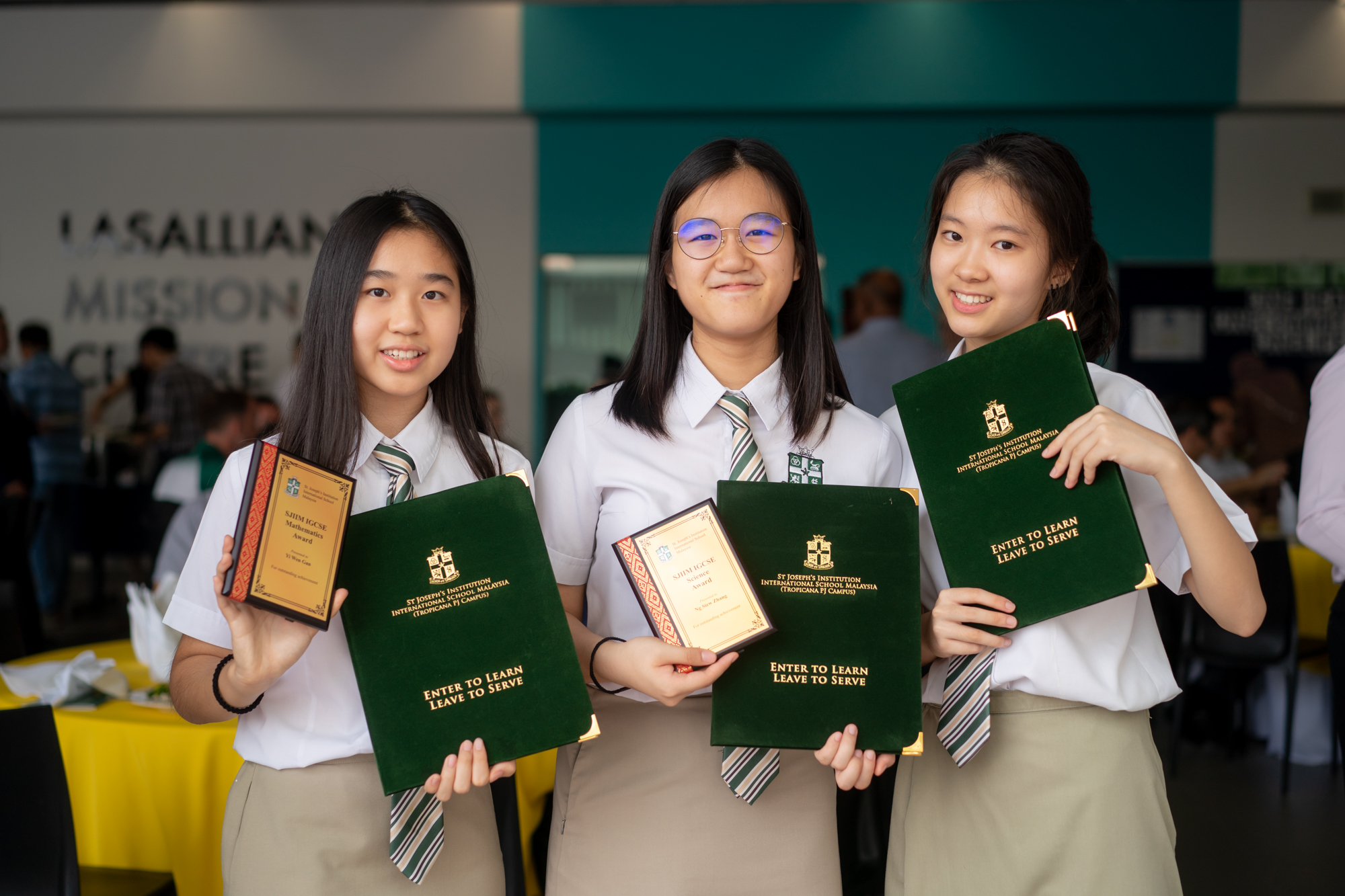 It was a joyous day again at SJIIM as we celebrated the graduation of our 2nd IGCSE cohort. A highlight event for the Year 11 students, the ceremony was graced this time by SJIIM's Founding Parent Support Group Chairman, Mr William Wong as its Guest of Honour together with special guests, parents and the high school community.
Traditionally held after the completion of the IGCSE examinations, the event was a great opportunity for everyone at the school to celebrate the Year 11s' achievements and perseverance.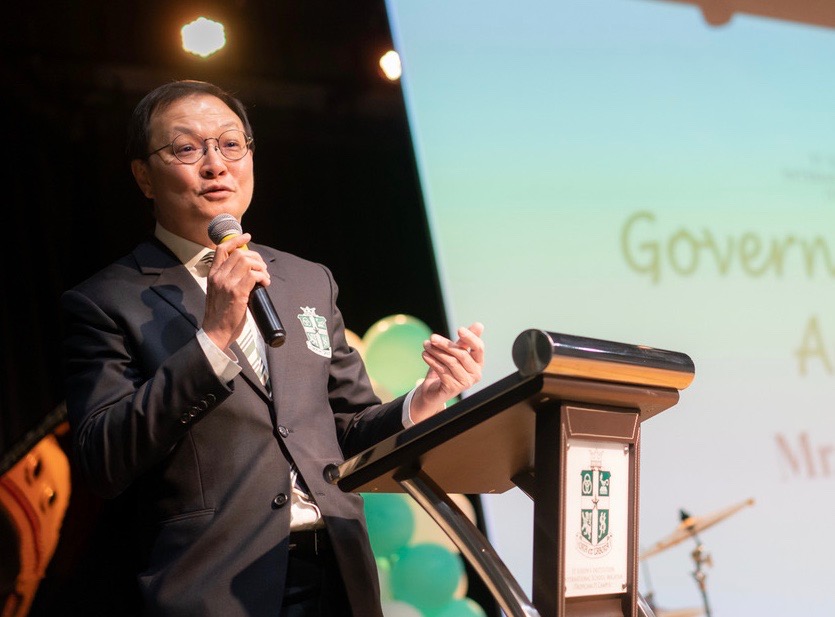 SJIIM Governor, Mr Michael Sng delivering his address to the graduates
Dr. Nicola Brown, the High School Principal of SJIIM was proud of the graduates' achievements and said "I am confident that this cohort will continue to be committed to their Lasallian values when they move on from SJIIM. They are wonderfully warm and caring young people. We are especially proud of the impact they have had on our younger students. The whole community is excitedly awaiting the IGCSE results which are coming out in August this year. I am sure that the results will be pleasing and reflective of the dedication shown by the students. We wish them all well for the future."
Mr. Anton Bush, the IGCSE Coordinator of SJIIM, was equally pleased with the performance of his charges for the past 2 years. He commented that the Year 11s are one of the most inclusive year groups in SJIIM and further added that they have achieved so many other things over the past 2 years in terms of personal development and contributing to the wider community. He further added that he will always remember how each of them responded to their personal challenges positively.

Guest of Honour, Mr William Wong congratulated the graduates on their achievement
The Guest of Honour for the Ceremony, Mr William Wong, whose daughter was also one of SJIIM's inaugural IGCSE graduates, congratulated the Year 11s on their graduation and complimented everyone at SJIIM for their part in providing a wholesome education for the graduates. In his address, he reminded the graduates that education is a lifelong journey that does not end with a graduation scroll, diploma or degree. He further encouraged them to shape their lives wisely and to take positive actions to realize their dreams.

Teachers' Choice Speech – Elliya Marie Shawn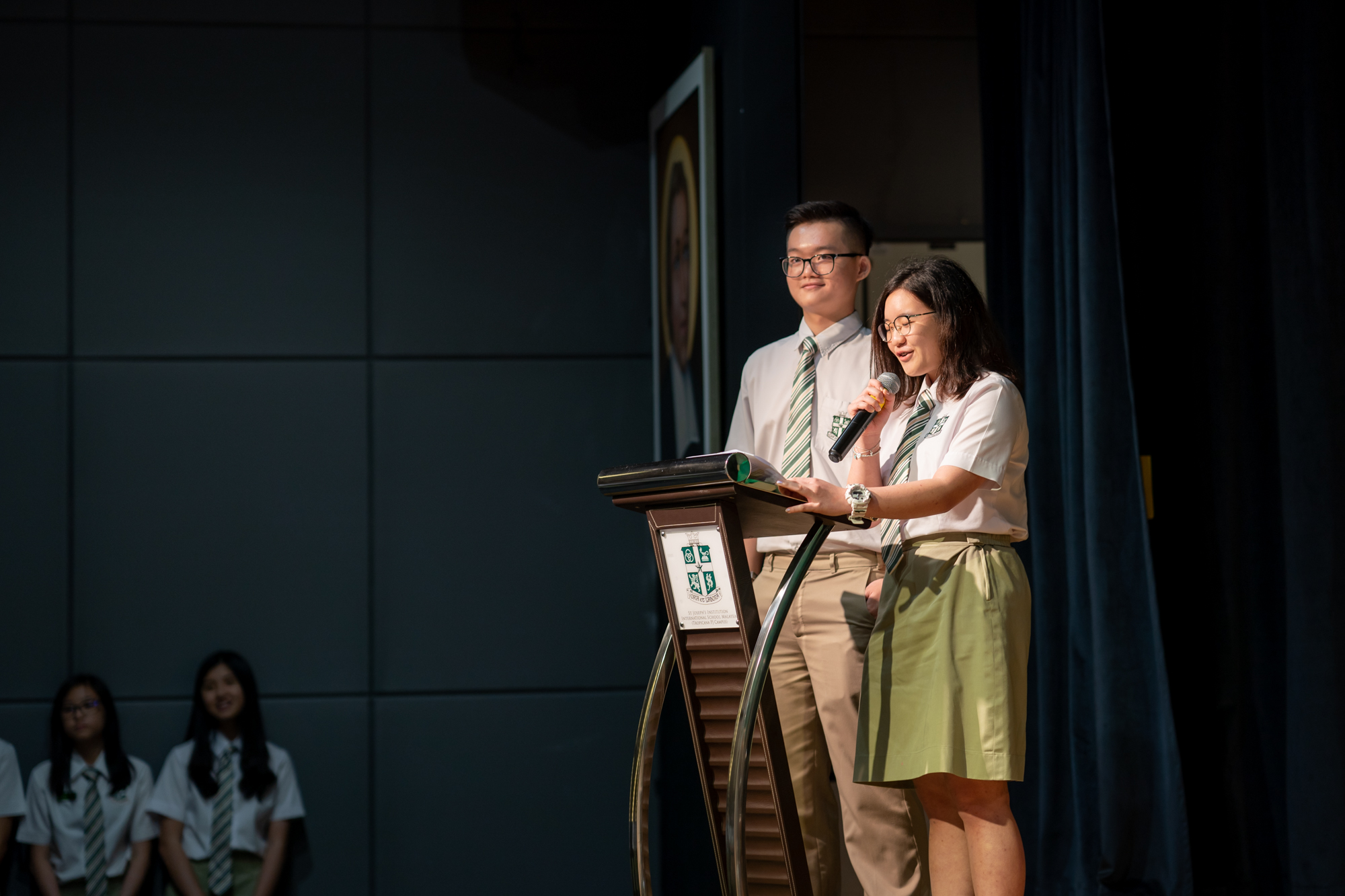 Students' Choice Speech – Yip Ren-Wei and Lee Jian-myn
The ceremony attendees were also treated to fantastic speeches by the students who were selected for the Teachers' and Students' Choice Speeches. Elliya Marie Shawn and Yip Ren-Wei together with Lee Jia-myn had the audiences in stitches as they reminisce about their time in SJIIM together with their school mates.
The following students also received special recognition for their achievements:
English Award: Joey Chee
Science Award: Ng Siew Zhang
Mathematics Award: Gan Yi Wen
Humanities Award: Kaylene Jia-Yin Leong
Languages Award: Yip Ren-Wei
Arts Award: Hannah Louise Dumpor
SJIIM Character Award: Jing Yuan Chan
Sportsperson of the Year Award: Dylan Choo Chung Keat
Year 11 Lasallian Service Award: Lee Jia-myn

Year 11 Lasallian Service Award – Lee Jian-myn
We hope that our students now have a restful summer and we look forward with anticipation to the school receiving the IGCSE results in August. Ora et Labora!