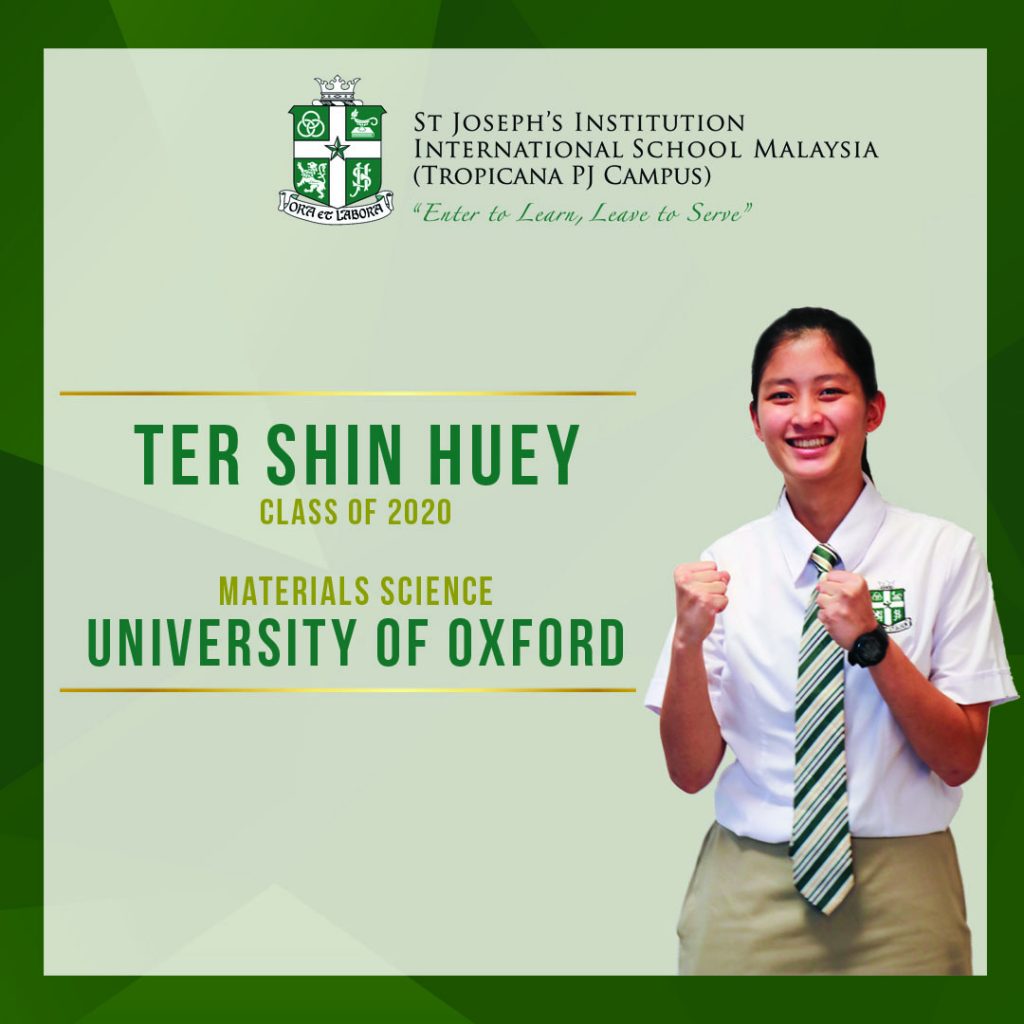 We are delighted that one of our Class of 2020 IBDP students, namely Ter Shin Huey has successfully gained a place at the University of Oxford!
Shin Huey was one of our students in the founding year. She joined SJIIM in Year 10 in 2016 and achieved excellent IGCSE results of 8 A* grades and 2 A grades in 2018. However, what made Shin Huey such a successful student was not only her academic prowess, but her extraordinary determination to succeed and her flexibility in her thinking. Shin Huey was truly one our model students, who was an example to others that long term academic success that goes beyond the numbers on exam results comes from the willingness to be open minded to new approaches to learning and thinking, and from continually challenging herself.
Shin Huey had originally begun studying A levels for her pre-university studies after completing her IGCSEs at SJIIM. However, she decided to remain at SJIIM to study on the IBDP, after starting her A level studies in the UK and missing the community atmosphere at SJIIM. On her return to SJIIM, she was awarded with an IBDP scholarship, in recognition of her previous contributions to the school and our certainty that she would become an important role model to younger students as well as her peers. She did not disappoint in this, as she always showed herself to be eminently supportive of her fellow students and completely committed to her studies. She never rested on her laurels, even when she gained recognition and achievements, always pushing herself to be even better the next day. When she faced obstacles, she always looked forward to a positive solution.
Outside of the classroom, she is a distinguished volleyball player, having competed at national and international level. Beyond that, she also found time during her studies to work alongside many of her peers in tutoring refugee children, as well as serving as a co-leader of an Investing CCA, and being an important member of the school's Environmental Club.
We are very proud of her, and are overjoyed that she has been rewarded for all her hard work, determination and focus during her time at SJIIM. This is also a testament to the strong support provided by SJIIM for our university applicants and IB students.
We send our best wishes and look forward to hearing all about her Oxford experiences.
Shin Huey added the following comments in appreciation for the support that the school has given her in reaching this achievement:
"I am grateful for all the help and support that was given to me throughout my IB journey, especially from all of my teachers. They are always willing to go the extra mile to guide their students, even if that means sacrificing their time after work. The school has also been extremely supportive of my university applications by providing references, personal statement workshops, mock interviews, and so on. It is never too hard to approach them in times of need to seek their advice, and I could not thank them enough for all that they have done for us."