Calligraphy is a type of Chinese art that is often written during Chinese New Year. The calligraphy works are then used as decorations for good luck, prosperity, positive energy. Writing Chinese calligraphy needs focus, patience and perseverance.
Three of our Year 12 students namely Song-Ling, Dixon and Shawn organised SJIIM's inaugural Chinese calligraphy competition on 2 February in conjunction with the upcoming Chinese New Year celebrations under the guidance of Ms Wong Yee Ping. Volunteer students from Year 12 and 13 as well as students from the Year 12 Mandarin B class chipped in to help as well..
On the competition day, students and teachers gathered at the foyer as a community to join the Chinese calligraphy competition which is also part of the house competition. The competition received overwhelming response with a 183 students and 13 teachers from diverse backgrounds and races taking part. Students, teachers and Brothers enjoyed learning how to write calligraphy and had so much fun teaching and learning from one another. Everyone learnt a new skill and had the chance to appreciate the Chinese culture in a relaxing environment.
There were many outstanding works and it was certainly a very challenging task for our judges, Ms Wong and Ms Low to choose the top winners of the competition. After lengthy deliberation, the top 5 student winners as well 2 top winning teachers were awarded prizes during the school assembly on 5 February. Our congratulations to these student winners: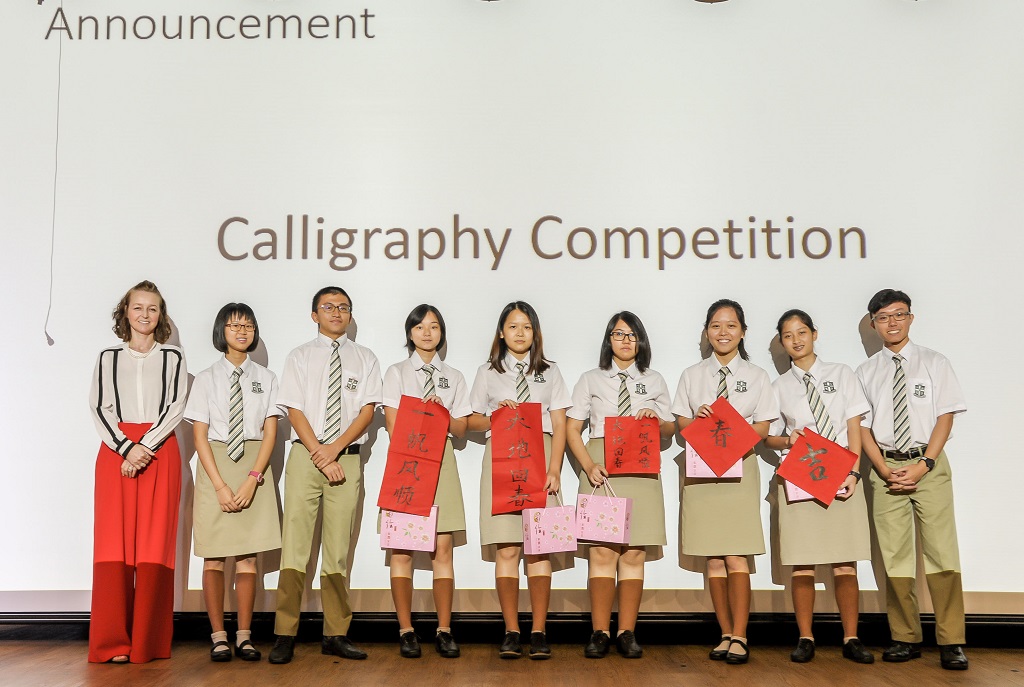 Linda (Year 13, Jaime House)
Cheng Hui Wen (Year 13, Miguel House)
Valencia (Year 12, Benilde House)
Cadence Cheah Hui Qin (Year 13, Benilde House)
Ter Shin Ting (Year 9, Jaime House)
Gong Xi Fa Cai and Happy Chinese New Year!