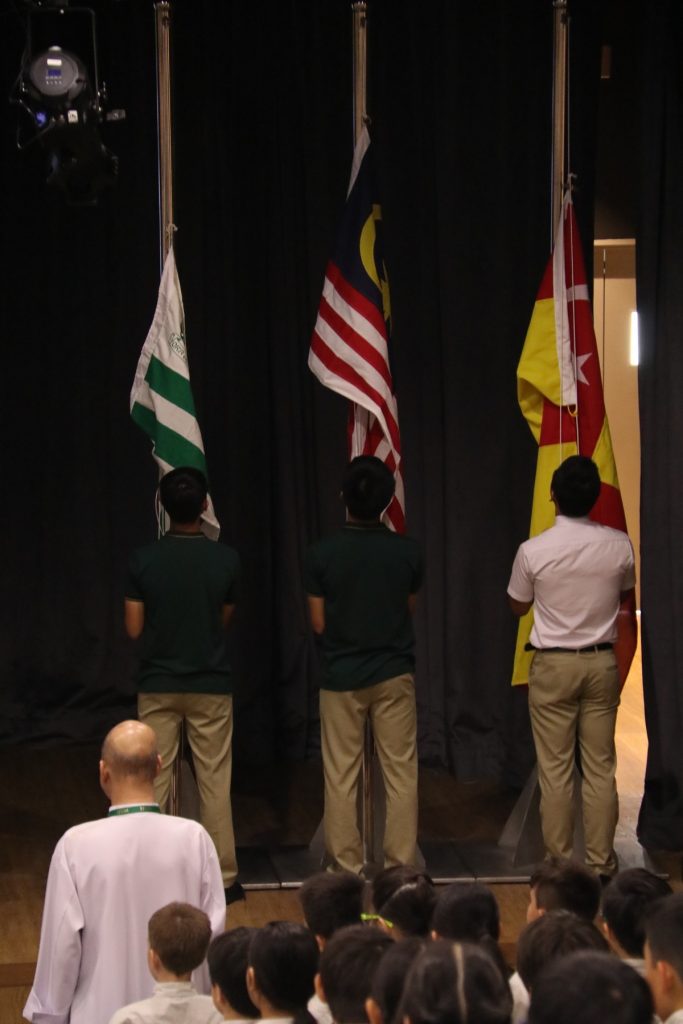 It was a momentous occasion for St Joseph's Institution International School Malaysia (Tropicana PJ Campus) as the founding staff, students, parents and Board Members gathered in the school's auditorium for the first whole school assembly. There was great excitement as staff and students greeted guests on their arrival for this significant event. The assembly began with the Malaysian national anthem sung proudly as the national, state and school flag were raised by three of the founding students. The Brother President, Brother Thomas Lavin welcomed everyone to the school and stated how happy and proud he was with the successful opening of Malaysia's first Lasallian International School. He was delighted that years of planning and preparation have come to fruition and he thanked the Principals of the school, Mr Stuart Glascott and Mrs Eileen Quigley, and the founding staff for all that had been done to bring the school alive. He also paid tribute to the Board Members and founding families for their trust and investment in SJIIM. A high point in the assembly was when the students and staff sang, the traditional Lasallian song, "I am Lasallian". This drew some emotional moments from the school's Lasallian Governors who have regarded the establishment of SJIIM as a significant tribute to their alma mater.
SJIIM's Board of Governors were represented by Mr. Michael Sng, Chairman of the Board, Mr. Dennis Tang of Lasallian Asian Partnerships for International School (LAPIS) and Mr. Dion Tan of Tropicana Corporation Berhad. In his speech, Mr. Sng also gave thanks to the founding staff and families for their faith in the school and their commitment to high quality Lasallian holistic education. He further shared his own SJI Lasallian school experience and the values he was taught which remain a central part of his life. He encouraged the students to embrace the Lasallian values of Service, Community and Faith.
SJIIM's students contribution to the assembly was outstanding. The MC's, Justin Soon and Linda Ridzuan, led the whole event with great skill and Christine Lee and Joshua Soon were articulate and confident in their presentation to thank the Board of Governors contribution in establishing the school. Catherine Khaw who is a year 12 student, gave a superb violin performance entitled, 'Obsession' by Ysaye. The school's Founding Scholars presented a video of their trip to the Philippines in July 2016 – everyone present was moved by the way the experiences they shared encapsulated the Lasallian values and hope for the future. The assembly concluded with the School Rally that was sang with gusto, and followed a tradition that is honored at SJI and SJII in Singapore.