The 2nd SJIIM Scholars' Lasallian Leadership Training Camp in Manila, Philippines.
– By John Ooi, Student & Hostel Services Manager, SJIIM.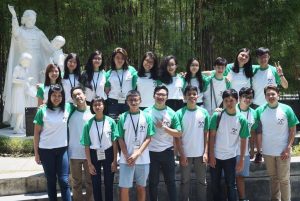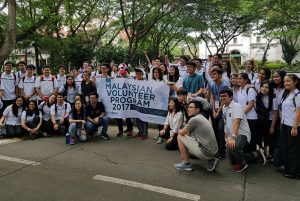 On the 6th of August 2017, 18 new St. Joseph's Institution International School Malaysia (SJIIM) IBDP scholars participated in the 2nd SJIIM Scholars' Lasallian Leadership Training Camp in Manila, Philippines. A time honored Lasallian tradition that is also observed in its brother school, SJI International Singapore, the programme prepares the school's scholars as Senior Lasallian Student Leaders to serve the school's community and the needy public on their return from the camp. This time, the scholars consisting of 2 Vietnamese scholars, 1 Filipino scholar and 15 Malaysian scholars embarked on the 12-day camp which focuses on Lasallian Formation, Leadership Training and Service Work. There, scholars learned about the Founder, St. John Baptist de La Salle and the founding history of the Institute of the Christian Brothers and offered services and support to the less fortunate in the Philippines.
Upon our departure from Kuala Lumpur to Manila, none of our scholars knew what to expect, having never been exposed before to the good works of the school's founder, St. John Baptist de La Salle. In fact, most of scholars have also never been to the Philippines before which made it even more exciting for them. The camp involved visiting numerous Lasallian schools, namely La Salle Green Hills, De La Salle University Dasmarinas, De La Salle Araneta University, De La Salle University and De La Salle Santiago Zobel Campus where by meeting students and faculty members from each school, the scholars had a better understanding of their Lasallian culture, values and practices. It was through these visits that they learnt more about what it means to be a Lasallian and the three core values which are Faith, Service and Community. From the sharing sessions during the camp, they realised that faith is not only about faith in God but also refers to faith in others and faith in themselves.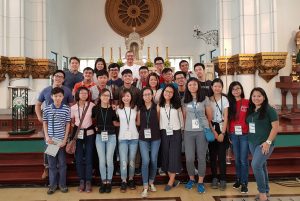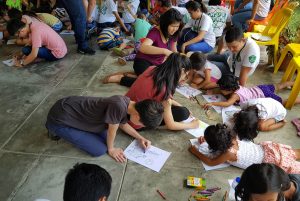 We were blessed to join their community service programmes. An example was in De La Salle Santiago Zobel where the scholars were tasked to create a community service project to carry out in the Taguig Rehabilitation Centre for drug addicts and Goodbye 'Gutom' (Goodbye Hunger) for children in poverty. Aware that language barriers and being unfamiliar with the children would be a challenge, they planned activities that were suitable for them and took the lead in different aspects of the project. This pushed them out of their comfort zones by experiencing poverty in ways they have only read or heard about. Our scholars interacted with children who were homeless and abused, and even recovering drug addicts who are presently based in rehabilitation centres. Here, they planned activities with them, fed them and bonded with them like Kuyas and Ates (older brothers and sisters) which in turn, help honed the scholars' leadership skills and exposed to them the larger meaning of life.
One of the Lasallian schools visited was De La Salle Araneta University which was in a farm called Salikneta. The scholars spent two memorable nights there which involved exposure to insects and  toads in their bathrooms. More uniquely, they had a chance to interact with nature where they had chances to milk a cow, pick chicken eggs, bake bread, prepare and bottle calamansi juice and plant paddy among many other activities.
A special experience for the scholars was that they were also very fortunate to witness the 'First Vows' of two Filipino Lasallian Brothers in the La Salle Green Hills. Upon the scholars return to Kuala Lumpur, it was found that the scholars have become more aware of what is means to be a Lasallian and understood better the obstacles and challenges that come from the cause of serving the last, the lost, and the least. They have also bonded together well and are now ready to help grow the Lasallian mission back in SJIIM and Malaysia.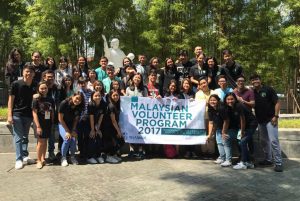 Below are excerpts of the scholars' reflections after the camp as well as the camp's video which shows the learnings and experiences they had as a group throughout the training and immersion programme.
"This 12-day camp in the Philippines has forced me to acknowledge the reality of the issues that I had previously known about and even experienced myself but had never known the immense scale of it or understood the intimacy involved when serving the community around us. Through the experiences at Kuya Centre, the Street Walk, Goodbye 'Gutom' (Goodbye Hunger) and Taguig Rehabilitation Centre, what humbled me most was the intense brightness and vivaciousness that we observed in the souls that we encountered; despite all that life has thrown at them, their beacons of hope burn bright through the darkness."  Chong Ying Xuan 
"After interacting with and serving alongside members of the Lasallian community, I feel as if I've been given a new window through which I'm gaining a fresh view of many things – particularly social work in my community." Kelynn Lee
"This trip has opened my eyes to the monstrous world of poverty around me that I've been obliviously ignorant to. While I've seen pictures of homeless and malnourished children in magazine articles, nothing could have prepared me for the shock I had upon seeing poverty rearing its ugly head right in front of me." Rachel Ong Li Jue
"My eyes have been pried open regarding the poverty and suffering riddling both the Philippines and other countries around the world, including Malaysia." Natalie Law
"St John Baptist De La Salle gave up so much to fulfil the needs of those around him. His legacy remains strong until today not because of how popular he was, but because of the sacrifices he made in service to others. He looked at the world through lens of faith and believed in educating the poor despite the huge obstacles that were in his way. This trip has inspired me to walk in the footsteps of those who have sacrificed their lives for others. They walked down hard and winding paths that were difficult to navigate through, but they continued persevering. These individuals like St John Baptist De La Salle chose to live their lives in service to others, and I now feel even more convicted to do the same."  Nicol Yong
"We learnt to love ourselves and the people around us, and we now strive to give endless love to everyone that we can. Hope and inspiration were ignited and our bonds were phenomenal as we worked together to help our community by thinking of ideas and games that the children would enjoy." Xuen Rong
"I remembered how the kids shared their dreams with us. They wanted to be soldiers, teachers, doctors, and sportsmen, but none of their ambitious dreams were about making their own life better. All of them wanted to serve their country and help their friends in the centre. For me, I have been trying my best to secure a good future for myself to have a better life, yet the kids want to improve the life of others. This made me think more about helping them to achieve their dreams." Pham Xuan Dang Khoa
"We are just a Google search away from realising the dire situation and needs of the world but sitting on a couch and being physically and emotionally there is a totally different thing. My ego was knocked down hard by a 5-year-old kid who dreams to be a soldier to serve his country; by a drug addict that is changing his ways to raise his family; by a farmer planting each seedling by hand. To say that these were humbling experiences is an understatement. I'm glad that I went through all of this with those with my brothers and sisters not by blood but by choice." Chan Tzu Kit
"I am so thankful to the kids for teaching me that happiness only takes a small amount of effort and that we should always be content with what we have." Tan Heng Lim
"I have learnt the meaning of empathy. It has thus instilled an awareness within myself to participate and contribute more to community services that can change the life of the less privileged for the better. I also realised that education plays a pivotal role in ensuring the success of every individual and this is the reason why the La Salle schools exist." Yip Song Ling
"This camp has "validated" the purpose behind the Lasallian mission for me. I'm in awe and admiration of the strong Lasallian identity that is palpable in the Philippines, and how much opportunity and hope this can give to the last, the lost and the least. We are one, we are many, we are catalysts for change, and we will be vessels of hope for the Lasallian mission, our home and beyond. It is a calling for hope. A calling for love. A calling for community. A calling for faith. A calling for the Lasallian mission to be spread wide and beyond back in our home, Malaysia." Andrea Tan
"During my camp in the Philippines, I visited six Lasallian schools and during these school visits, we met up with members of the school faculty and students of the schools. I remember being impressed by their devotion towards the Lasallian cause, and their closeness to the Lasallian culture. I remember, a senior from La Salle Green Hills named Rio telling me, "To me, La Salle Green Hills is my home." This sharing of Lasallian culture gave me a better sense of being part of a wider community and family, as well as what I can do once I return to SJIIM – my home. I hope to share what a Lasallian means to me with the rest of my fellow Josephians." Muhammed Hazim Bin Shahridan Faiez
"Through the various visits to La Salle schools around the Philippines, I found out about what like-minded Lasallian students are doing to help the last, the lost, and the least. I was inspired to steer towards applying my talents in Mathematics and Science to helping society in general, educators and the marginalised in particular." Peace Foo
"Being brought up in a non-religious family, I realised I wasn't that religious either. But seeing with my own eyes how a strong and sacred belief can drive so many different people to do great things has made me rethink." Lai Shu Xian
"Culture determines the future of an institution. We are among the pioneers of St. Joseph's so we hold a responsibility to lead others in the school to the right path towards success. It's not an easy task, but if we do it together, it won't be hard. I am proud to be here, to be a Lasallian, and, a Josephian." Chong Ting Shen
"This camp definitely gave me a new meaning to what friendship is, and has taught me of how valuable it is to have people beside you while going through this journey called life. I've learned of how strong the Lasallian community is here in the Philippines, and I want to bring it back to my home country. This camp has been like no other I've experienced and I will be eternally grateful for it." Dylan Dev
"I can continue being a Lasallian in my own little ways, like inspiring other people in doing the same works in helping the last, the lost, and the least. Even if I am not the light, I can be the spark." Lanz Bosita
"For me, it does not stop here. The trip has changed me in ways I did not realise and touched me in ways that I could not see. I have become more determined to be a better self, not just for me, but for all those around me. I now strive to be so much more so that I can help my community, not just me." Dang Vu Minh
Scholars' Lasallian Leadership Training Camp in Manila 2017 Video