– A reflection by Maureen Fitzgerald, IBDP Coordinator of SJIIM
This year 17 new IBDP students took part in the 3rd annual SJIIM Lasallian Leadership Training Camp in the Philippines from 4 to 14 August 2018. An exciting development this year was the involvement of both scholars and non-scholars in a group of 17 incoming Year 12 students. With the emphasis on preparation for these students to serve as senior Lasallian leaders in the school, this camp follows not only an annual tradition at SJIIM, but also at its brother school in Singapore. Whilst on the trip, students have sessions in which they learn about the history of the Lasallian movement and the values that it stands for, as well as the story of its founder Saint John-Baptiste de la Salle. As well as these more theoretical sessions, however, students have opportunities to actively serve the poor in the Philippines, including planning for mini service projects. This then prepares them to initiate and carry out similar service projects for those in need closer to home back in Malaysia.
Before the students left for the camp, most of them had never met each other before, nor had they been to the Philippines. Since I had also never visited the Philippines before, I was equally excited for the adventures to come. Whilst on the camp, we visited three different Lasallian schools: La Salle Green Hills School and De La Salle Santiago Zobel School, both located in Metro Manila, as well as Jaime Hilario Integrated School-La Salle, which is near Bagac, in the province of Bataan on the western coast of the Philippines. Each of these schools brought different experiences for the students and through the interactions with a variety of Lasallians – both teachers and students – this allowed the students to develop a deeper and more complex understanding of the three core values associated with the Lasallian movement (faith, community and service). Not only that, they also came to understand that these three values do not stand separately, but are instead intimately interrelated, so that for example one's faith is strengthened through providing service to others, as the possibility of making a change in the world becomes tangibly evident. When working together as a community to improve the lives of others through service, the links between the members of the community are tightened.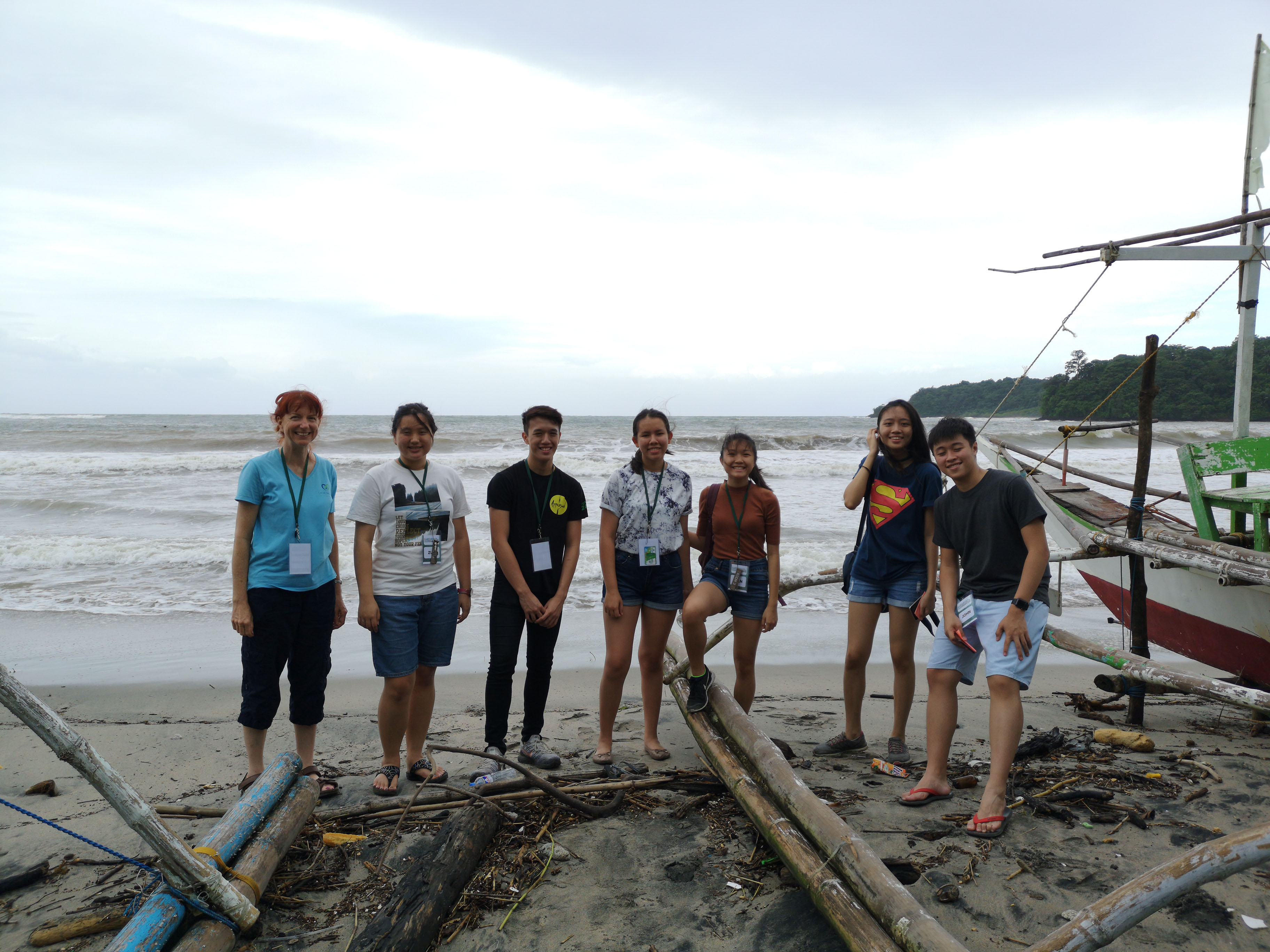 At Jaime Hilario Integrated School-La Salle the students interacted with students in a variety of means. These included in class immersions on the first day there, in which they were assigned a class teacher to shadow for the day. In this experience, they supported students in their learning and found out what it was like to be a teacher at the school in planning, preparing for and delivering lessons. They also had the chance to plan for and deliver some sessions of their own, singing a song with the school's Grade 11 and carrying out games with Grade 12 students involving them learning common Filipino words and the Grade 12 students learning some Bahasa. Through this, they had the chance to realise how similar they were to these students, and to share their differing and common cultural and personal characteristics. What had the most impact on them at the school, though, was the night that they spent with host families in the local village. Many of these families gave up their own already humble sleeping quarters for the SJIIM students, and gave the students a strong understanding of the Lasallian values in action. Many of them realised that although these people had much less than them materially, they had much more spiritually, and began to get what was for some their real first taste of what community can mean when the needs of someone else supercede our own.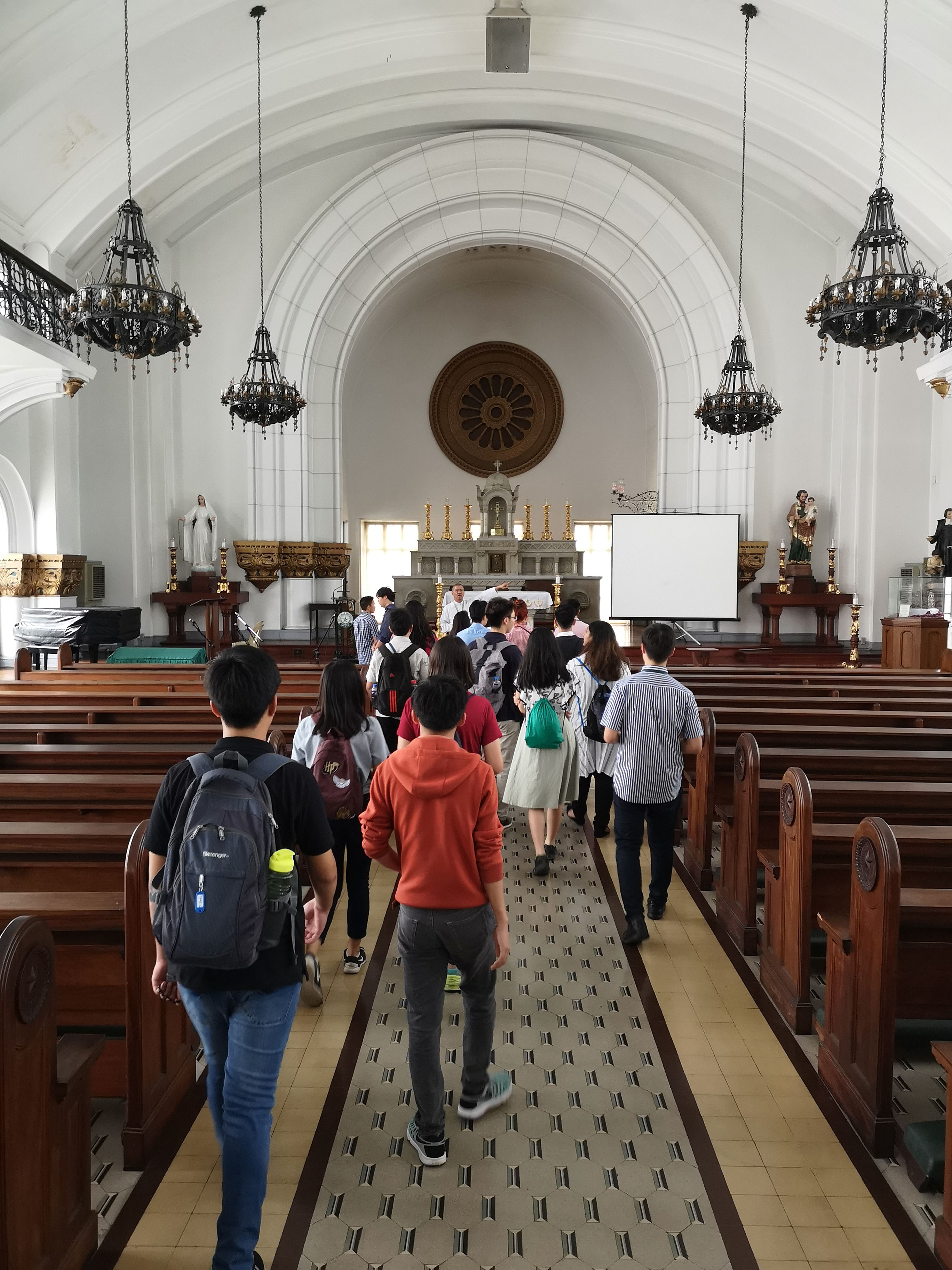 At De La Salle Santiago Zobel School, they had further experiences with giving service. Here, they learned from the students how to plan effectively for a service project, and to ensure its successful execution. Taking part in the school's established "Goodbye Gotam" (or "goodbye hunger") project, they planned games for the local children whose families had moved to Metro Manila in order to be close to their loved ones who are incarcerated at the local penitentiary. For many of these children, it was not unusual to have only one meal a day. By participating in the weekly feeding of these children, our students were able to experience firsthand what a difference a simple meal can make to others. Perhaps more importantly, they also learned about self-sacrifice and care for others through these children, since many of them saved part or all of the meals provided for them to take home to the rest of their families. By providing simple games for these children, they were able to give them a chance to just be children for a few hours, away from the hardships of their daily lives. In the afternoon, they visited a home for former street children called "Haven for Children", again playing games with these children and sharing a meal with them. Here, many of them were struck by the ways that they could communicate and bring happiness to these boys, despite the language barrier between them.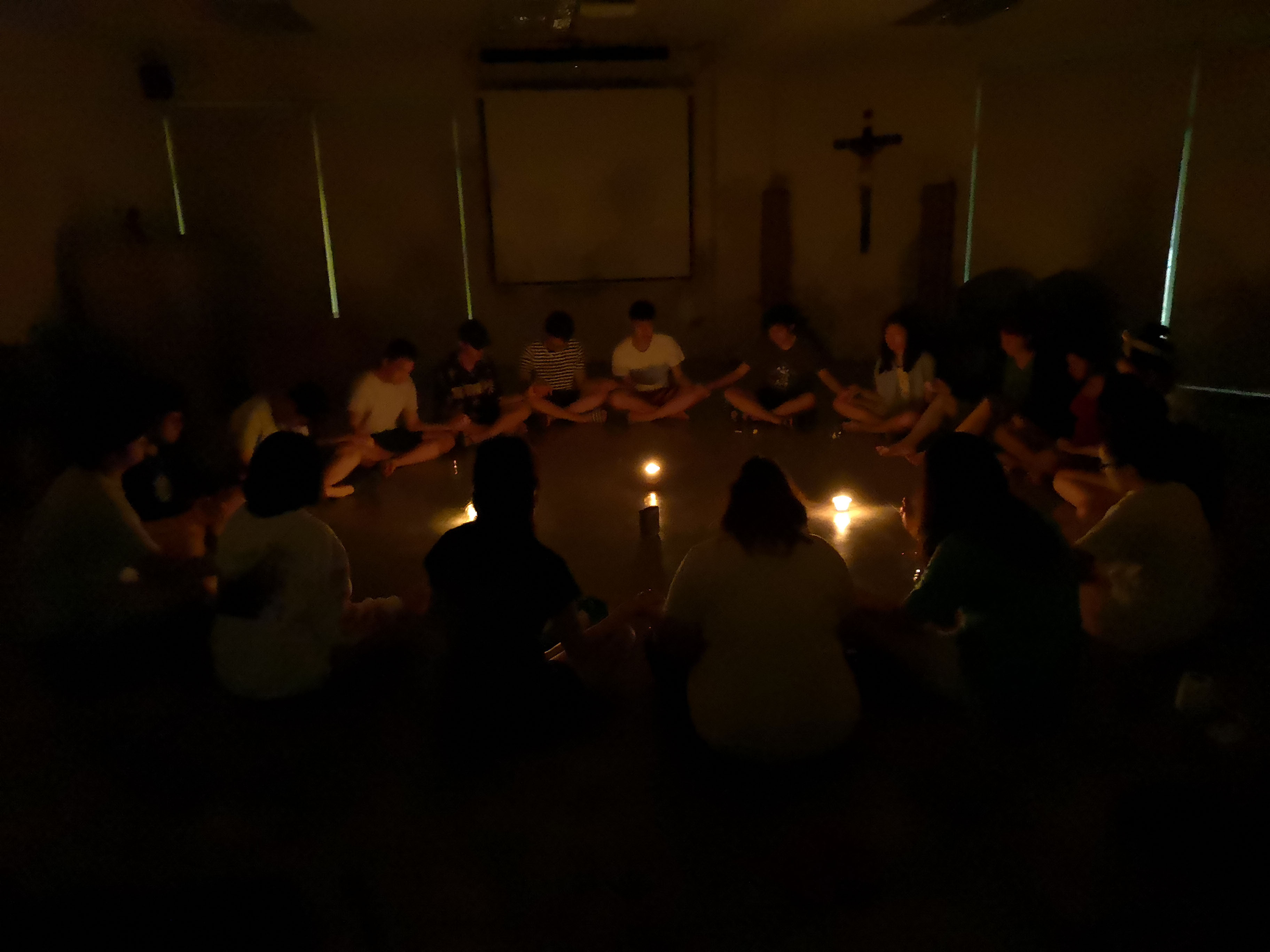 As well as visiting these schools, they also had the rare opportunity for a tour of De La Salle University, Manila. There, they were lucky to have a session with Br. Michael Broughton FSC, the outgoing Vice President for Lasallian Mission at the university on the core Lasallian values. A key idea that he reinforced about the value of faith is that it is a much more complex concept for Lasallians than simply religious faith: it can encompass for example faith in oneself and the belief that one has the capacity to make a difference in the world, faith in the goodness of others, faith in the possibility for improvement, and faith in something higher or greater than ourselves. That thing that is greater than ourselves might be God, or a set of values, a cause we are deeply committed to, our community and/or family. It is what gives us purpose, and can contribute to our resilience to face the challenges in life. He reinforced to the students that lack of religion does not keep one from a Lasallian spirituality, and encouraged them to explore that aspect. He encouraged the students to consider the needs of all who are less fortunate, whether or not they are "nice" people, keeping uppermost in their minds the suffering of those less fortunate than themselves. He highlighted the interesting idea that de la Salle was himself a revolutionary, having gone against the expectations of the Catholic church of his time in wanting to provide for the education of poor children. The tour of the university included not only the college's academic and administrative buildings, but also the resident cats, who are part of a project dear to the hearts of the several staff at the university to show love and care for these animals who would otherwise be neglected and even perhaps directly harmed by those who see them only as a nuisance to the local neighbourhood. A visit to the college's Chapel of the Most Blessed Sacrament included a narration by Brother Michael of the massacre of February 1945, during which more than 70 Filipino people including women and children were attacked by more than 20 retreating Japanese soldiers. This story served to contrast with the Lasallian values that the students had been considering on this visit, perhaps even more strongly reinforcing the importance of these values in impacting not just ourselves as individuals, but in the care and respect that we show to others as a result of holding these values.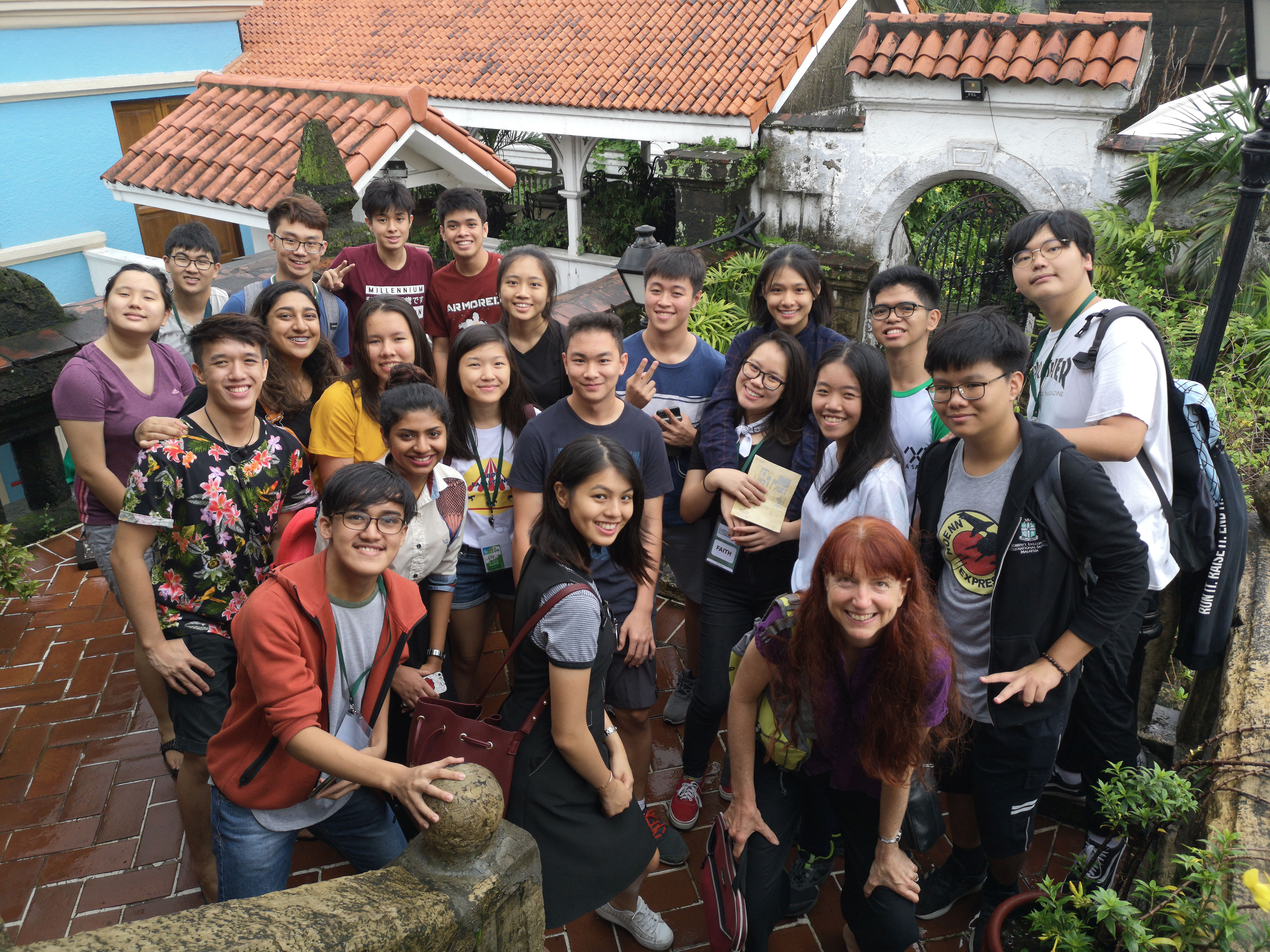 For myself, I felt so fortunate to have joined the students on this trip. As a teacher who is new to the Lasallian tradition, having joined SJIIM only in August 2017, I feel that it strengthened my own understanding of the Lasallian values. Previously, I had not understood the important connections between these interdependent values. Through seeing the students interacting with other children of varying backgrounds, I have so much hope for the next two years and the enormous difference that these young people will bring to the communities that they are a part of, both inside and outside of school. My own faith has grown, and I feel an even stronger commitment to supporting the development of these values, not just in the students under my care, but also that of my own.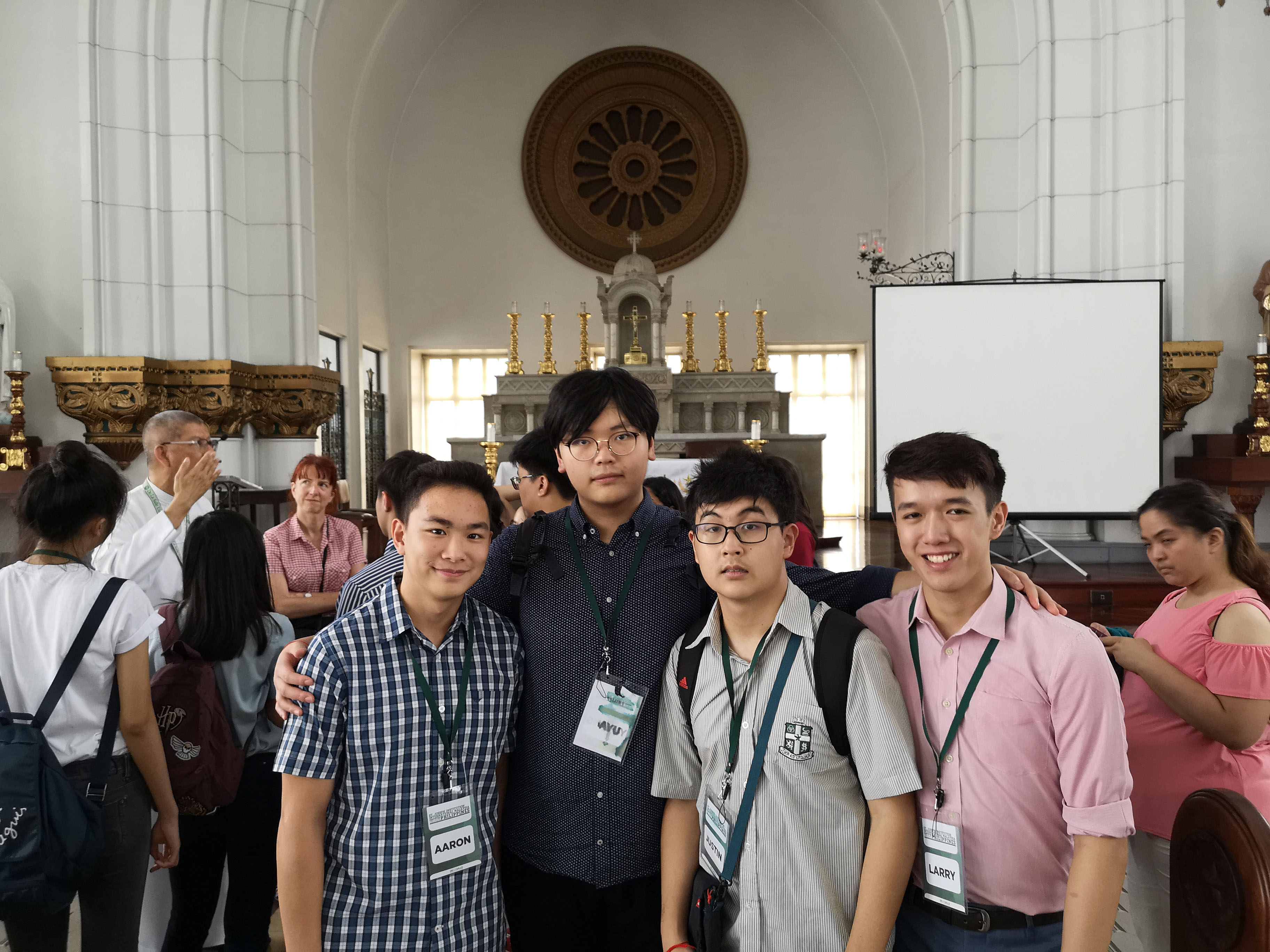 Below are excerpts of the scholars' reflections after the camp about their experiences and what they learned as a group and as individuals throughout this training and immersion programme.
"This trip reminded me of the many people living in less fortunate conditions that we, the more fortunate, should be helping. In the future, I would like to participate in more community service programmes so that I will be able to make a larger contribution to the community than we did on this trip. I also realised that happiness is not determined by how much we have, but by the capacity of love in our hearts."
– Victoria Evans
"I always thought of myself as a man with a purpose, with a goal. I was focused on stereotypically materialistic dreams, where only three people existed: I, me and myself. That changed after I got the chance to interact and bond with the ones who have less. Or so they are thought to be. Money can't buy happiness, and their happiness is achieved through immense gratification for every meagre blessing they have, and not sulking over things they do not possess. I feel that even though they are financially poor, they are spiritually rich. Their smiles, untainted, authentic, but with a tinge of bittersweet longingness, melted my heart, and I can't help but hope that I could do something to further brighten their smiles."
– Lyonn Loo
"This camp has taught me three very valuable lessons:
1. Happiness does not come from material possessions, it comes from being grateful with what you already have.
2. Life isn't about becoming the richest or the best at something, it's about helping and lifting the Last, the Least and the Lost.
3. Faith isn't about believing in a religion, its about believing that everything happens for a reason and you can only connect the dots looking backward. So, embrace every challenge, every heartache and every victory. "
– Aaron Loke
"I realised from staying with the families in Bagac that they never ever complained about [their lives]…even though, someone like me, who doesn't need to worry about food and life, everyday we still complain about a lot of things: new clothes, a new phone or a new computer, which are things that might never dare to think of. We don't have to get happiness from money, [since] family (community) and Faith are the fuels that push them forward and pull them out of the mire… I've learnt a such impressive lesson from them, I won't ask for something that is not necessary in my life, until I actually need it for survival: money doesn't matter; only family, friends and community do."
– Wang Yuyang
"I will remember to have faith in the fact that I have the ability to make a difference. I will remember that as a member of this community, I need those around me and those around me need me. I will remember that my life should not be about me, but about making use of myself to serve those around me. Maybe privilege is not found in having more, but instead in appreciating the little that we have."
– Marcus Liew
"Right when we were about to leave [the Haven for Children], Banilo and Mike came running towards me with their arms wide open, while shouting "Ate Dish!" – 'Ate' meaning 'sister' in Tagalog. They gave a huge, warm hug. I started tearing up. I didn't want to leave them. In such a short time, happiness and comfort could be felt, even though we were all strangers. I'll never forget Mike, a 12 year old, and Banilo, an 11 year old."
– Dhiirsyha Vinesh